The holiday season has always been my favorite time of the year! One of the best nights is when your Christmas decorations are finally up and you get to sit by the fire, admire the beauty of the tree and its lights, turn on a Christmas classic, and snuggle up with a hot cup of cocoa!
Why not bring the tradition of Hot Cocoa and all the fun toppings to your holiday gatherings? Whether it's just you and the kids or the whole clan, a Hot Cocoa Bar at your gathering says "Come on in out of the cold, get warmed up, relax, and let's enjoy the holiday together!"
We've searched the web for some great tips for setting up a Hot Cocoa Bar that the kids will want you to bring back year after year.  It will be their favorite part of your gathering....and let's face it...hot cocoa is a favorite for any age! 
*************************
"HOT" TIP #1 - YOUR COCOA!
To start off, you'll need the main attraction - Hot Cocoa! We don't recommend instant cocoa packets as they can be messy and creates an unnecessary step for your guests. Plus, nothing beats a cup of REAL hot chocolate! You'll need a great Hot Cocoa recipe. We found this Crock-Pot recipe on www.DinnerAtTheZoo.com and it is original, it's yummy, and so easy.  If you don't want to have your Crock-Pot out on the table, then we'd recommend renting a coffee urn filled with pre-made cocoa.  
 **************************************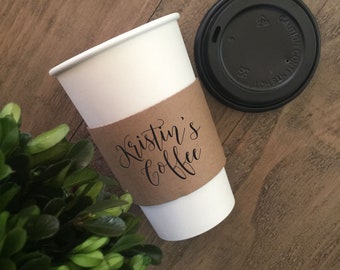 "HOT" TIP #2 - YOUR CUPS

: 
If you're having a small gathering, you can use your own personal coffee mugs you have at home. But if you're going to have a larger gathering, go with paper coffee cups with sleeves and lids.  Our favorites are found at Paisley Grey Designs on Etsy. You can see them
here
and they will even customize them for you! This little bit of personalization will make a huge statement at your gathering!
***************************
 "HOT" TIP #3 - YOUR DISPLAY:
You can fill your table with
some clever, eye-catching
containers for mixes & add in's. Here are a few that have worked well for some of our Hot Cocoa Bar displays
:
Mason jars
Metal tins
Dessert glasses
Small canisters
Mugs
Just about anything you have or would like to use. Be creative! We just recommend you make sure the opening is large enough to scoop things out of.
Another way to add pizzaz to your table display is by creating various levels. You can use cake stands, Lazy Susans, wood pieces, or tin pails upside down. Stack your cups, little signs, toppings in different ways to create those levels that make your table pop!
 ****************************
"HOT" TIP #4 - SCOOPS!
You'll need utensils to scoop out your mixes or add-in's. Instead of the old go-to...plastic or metal spoons, check out these adorable
Mini Scoopers
 we found on 
Amazon.
******************************
Wooden stir sticks t

end to work better than the skinny plastic ones and we found some on Amazon that don't come in a huge amount.  You can get 100 for a great price.
Another fun idea is to make homemade candy stir sticks! These festive candies are a fun addition to your Hot Cocoa Bar and are not just for the kids (I'm sure you would agree)!
Amazon has a set of Candy Cane Spoons that are inexpensive & fun. You can also find these at Target.
Lastly, add some chocolate spoons to your table! You can make your own at home like

these

from www.thenerdwife.com or purchase them pre-made from this sweet store on Etsy: www.pikespeaklemonadeco.com 
 ********************************
"HOT" TIP #6 - TOPPINGS & ADD-IN'S:
You may be asking "So besides the cocoa, what else can be added to my Hot Cocoa Bar that will have my guests talking about this fun party long after it's over?" Here are some of our ideas:
Trader Joe's has these adorable Cookie Mug Hangers your guests can add to their mug
Whipped Cream is a must!
Mini Marshmallows
Candy Canes (whole or crushed)
Other crushed candy toppers like toffee, Andes mints, or peanut butter cups are yummy in a hot cup of cocoa
Sprinkles
Flavored Syrups like vanilla, peppermint, caramel or chocolate
Cinnamon Sticks
Chocolate chips (also look for white chocolate and mint!)
Pepperidge Farm Pirouette cookies are a fun addition and can be dunked in your cup.
********************************
Adults at your gathering looking for a little more kick to their cocoa?
Consider adding bottles of Grand Mariner, Peppermint Schnapps, Kahlua, Bailey's Irish Creme, or Amaretto to your table. (These should be out of reach of the kids helping themselves at your Hot Cocoa Bar!)
Click
HERE
for a link to
The Bewitchin Kitchen!
They share some fantastic ideas for some out of this world spiked hot cocoa recipes you can make yourself!
********************************
One of the trends we have seen lately are
Hot Cocoa Bombs!
You can buy these from stores online or your local bakery. But you can also make your own! Check out
this link
to 
A Table Full of Joy
for some easy recipes. Simply drop your Hot Cocoa Bomb in your mug and pour hot milk over it to see it open up and instantly add cocoa powder and marshmallows to your cup!
Stir it up and enjoy the chocolaty goodness!
This is SO fun!
********************************************
Merry
Christmas
Everyone!!!
Stay Healthy. Stay Happy. Stay Hopeful.